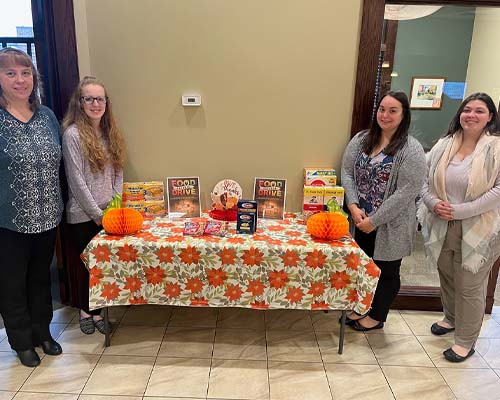 Oneonta, NY- Bank of Cooperstown, a unit of Wayne Bank, is joining forces with a local food panty to collect donations for the community of Otsego County.
A donation box will be located at the Bank of Cooperstown Oneonta Community Office for the month of November. All proceeds will be donated to St. James Church in Oneonta. With the collected proceeds the church will hold a dinner where the community can come to have a hot meal. The group also will give "food pantry" bags to families in need.
"We are excited to be able to assist with giving back to our local community during the holiday season," said Bank of Cooperstown's Oneonta Customer Service Representative, Tiffany Malave. "Please consider taking a moment out of your day to stop by our office during the month of November with some canned goods or shelf-stable items.
Wayne Bank is a subsidiary of Norwood Financial Corp., Member FDIC, and is located in Honesdale, Pennsylvania. The Bank has 30 Community Offices serving Wayne, Pike, Monroe, Lackawanna, and Luzerne Counties in Pennsylvania, along with Delaware, Sullivan, Otsego, Ontario, and Yates Counties in New York State, including those offices operating under the Bank of Cooperstown and Bank of the Finger Lakes brands. The stock trades on the NASDAQ Global Market under the symbol— NWFL.
Photo caption- left to right: Tina Brundege, Oneonta Community Office Personal Banker; Miranda Koerner-Fox, Oneonta Community Office Teller; Tiffany Malave, Oneonta Community Office Customer Service Representative; and Rachel Hanstine, Oneonta Community Office Teller.
Click below for a PDF version of this news release.
Click the photo icon for a larger image of the photo above.