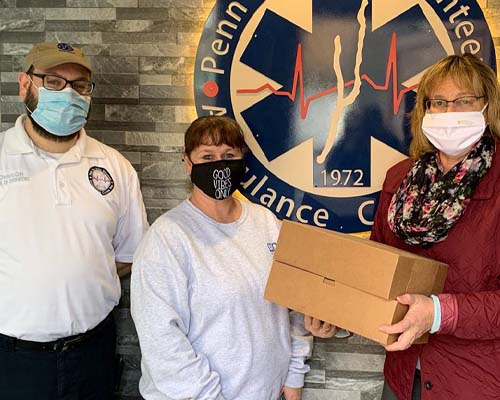 Penn Yan, NY – The Bank of the Finger Lakes Penn Yan Community Office team recently honored the Penn Yan Area Volunteer Ambulance Corps with baked goods from the Blue Heron Bakery. This was part of a bank-wide initiative to show support and gratitude to healthcare workers and first responders, while also supporting the restaurant industry, as the community continues to be impacted by the Coronavirus pandemic.
Assistant Vice President and Penn Yan Community Office Manager, Pam Donnells, commented, "On behalf of the entire Bank of the Finger Lakes team, we are so grateful to all of the brave healthcare workers, first responders, and essential workers on the frontlines who have continued to support our community during these difficult times."
Penn Yan Area Volunteer Ambulance Corps, Inc. (PYAVAC) was founded by Bob Flynn in 1972. Based in Penn Yan, New York, the organization serves the greater Penn Yan area through basic and advanced life support. PYAVAC also provides mutual aid to Dundee, Middlesex, and other surrounding areas as needed. Their fleet is made up of four modular ambulances, which includes 45 active volunteers along with staff leased EMT's who keep PYAVAC in operation 24 hours a day, 7 days a week. PYAVAC is complimented with ALS providers through Medic 55. Medic 55 is a Finger Lakes Health organization that provides additional life-saving measures to the residents of Yates County.
PYAVAC responds to roughly 1,900 calls a year, of which are mostly emergency in nature, as well as stand-by situations at community and sporting events. They also offer interfacility transports from Soldiers and Sailors for patients needing a higher level of care.
Wayne Bank is a subsidiary of Norwood Financial Corp., Member FDIC, and is located in Honesdale, Pennsylvania. The Bank has 31 Community Offices serving Wayne, Pike, Monroe, Lackawanna, and Luzerne Counties in Pennsylvania, along with Delaware, Sullivan, Otsego, Ontario, and Yates Counties in New York State, including those offices operating under the Bank of Cooperstown and Bank of the Finger Lakes brands. The stock trades on the NASDAQ Global Market under the symbol— NWFL.
PHOTO CAPTION – LEFT TO RIGHT: Jason Johnson, PYAVAC; Cindy Davis, PYAVAC; and Pam Donnells, AVP, Penn Yan Community Office Manager, Wayne Bank.
Click below for a PDF version of this news release.
Click the photo icon for a larger image of the photo above.