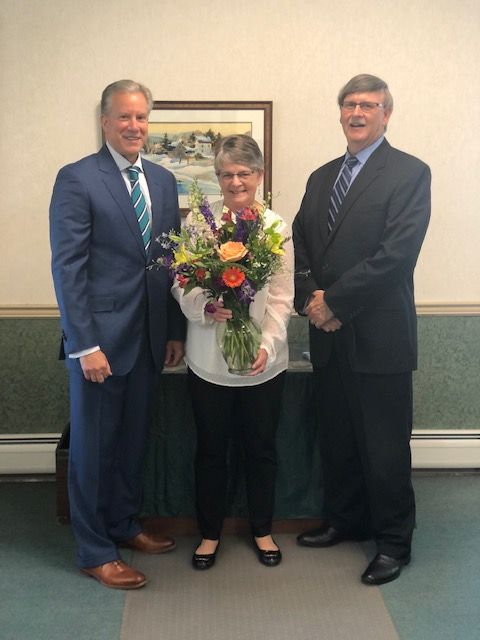 Honesdale, PA – Wayne Bank recently celebrated the retirement of Hawley Community Office Manager, Denise Seman, after a twenty-three year career in banking.
Denise began her banking career in 1998 and joined Wayne Bank in 2015. She is a graduate of the American Banker Association's School of Banking and held various positions during her impressive career, most recently serving as Community Office Manager for Wayne Bank's Hawley location.
President and Chief Executive Officer of Wayne Bank, Lewis J. Critelli, remarked, "On behalf of Wayne Bank's Board of Directors, officers, and employees, we are so grateful to Denise for her excellent service and dedication to our customers, shareholders, and the Wayne County community. We wish her all the best as she begins a new chapter of her life."
Wayne Bank is a subsidiary of Norwood Financial Corp., Member FDIC, and is located in Honesdale, Pennsylvania. The Bank has 30 Community Offices serving Wayne, Pike, Monroe, Lackawanna, and Luzerne Counties in Pennsylvania, along with Delaware, Sullivan, Otsego, Ontario, and Yates Counties in New York State, including those offices operating under the Bank of Cooperstown and Bank of the Finger Lakes brands. The stock trades on the NASDAQ Global Market under the symbol— NWFL.
PHOTO CAPTION-LEFT TO RIGHT: Lewis J. Critelli, President & CEO, Wayne Bank; Denise Seman; and Robert J. Mancuso, Executive Vice President & Chief Operating Officer, Wayne Bank.
Click below for a PDF version of this news release.
Click the photo icon for a larger image of the photo above.