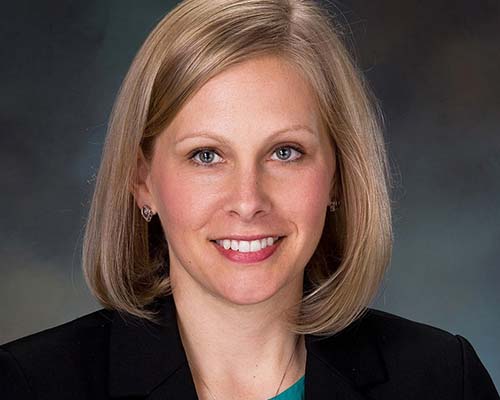 Honesdale, Pa – Lewis J. Critelli, President and Chief Executive Officer of Wayne Bank, is pleased to announce the promotion of Heidi Westfall at Bank of the Finger Lakes.
Heidi has been promoted to Vice President and Bank Administration Officer.
In her new role, Heidi will be working with Bank of the Finger Lakes Community Office team members to assist in providing excellent customer care, along with expanded product and service knowledge. As part of the Retail Bank strategic planning, marketing, and project management teams, Heidi will focus on leadership initiatives for the Geneva and Penn Yan Community Offices.
Heidi joined Bank of the Finger Lakes in 2012. She is the current chair of the finance committee for the Boys & Girls Club of Geneva and has been the treasurer of Geneva Community Projects since 2015. She resides in Geneva with her husband, Paul.
According to Mr. Critelli, "Heidi brings several years of experience to our Retail Operations team. In her new role, she will help support the team in achieving customer service and operational goals, while deepening our roots in the Finger Lakes market."
Wayne Bank is a subsidiary of Norwood Financial Corp., Member FDIC, and is located in Honesdale, Pennsylvania. The Bank has 31 Community Offices serving Wayne, Pike, Monroe, Lackawanna, and Luzerne Counties in Pennsylvania, along with Delaware, Sullivan, Otsego, Ontario, and Yates Counties in New York State, including those offices operating under the Bank of Cooperstown and Bank of the Finger Lakes brands. The stock trades on the NASDAQ Global Market under the symbol— NWFL.
Click below for a PDF version of this news release.
Click the photo icon for a larger image of the photo above.