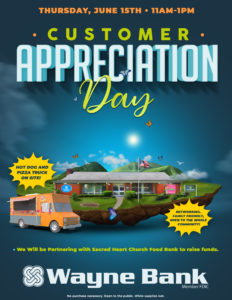 Honesdale, PA – Wayne Bank invites the community to a Customer Appreciation Event at the Stamford Community Office, 1 Churchill Ave, Stamford, NY on June 15th, 2023, from 11am-1pm.
This event is open to the public and will include fun for the whole family. Enjoy refreshments including a hot dog and pizza truck, take advantage of networking with other members of the community, and help Wayne Bank raise funds for Sacred Heart.
"Wayne Bank is honored to be part of the Stamford community and takes pride in the relationships we've built within.  The people and businesses here are our friends, our neighbors, and viewed as family.   Although we celebrate our customers' every day, "Customer Appreciation Day" is our way to display our gratitude to everyone, customers and noncustomers alike.  We love that we can host a community event which will raise funds for Sacred Heart Church Food Bank and encourage the extraordinary community members to stop by to talk with us while enjoying complimentary food and beverage," stated Tanyia Vannatta, Wayne Bank Vice President and Delaware and Otsego County Regional Manager.
The Customer Appreciation Event will follow the Delaware County Chamber June Breakfast.  Sponsored by Wayne Bank, the Chamber Business Breakfast will be held on Thursday, June 15th from 8:30am-10am at Catskills Junction.  Those interested in registering to attend the event can do so by visiting Business and Breakfast Networking (delawarecounty.org).  Business and Breakfast is a targeted networking and contact-building event designed to give members of the community opportunities to meet and share their business information with other Chamber members.
Wayne Bank is a subsidiary of Norwood Financial Corp., Member FDIC, and is located in Honesdale, Pennsylvania.  The Bank has 29 Community Offices serving Wayne, Pike, Monroe, Lackawanna, and Luzerne Counties in Pennsylvania, along with Delaware, Sullivan, Otsego, Ontario, and Yates Counties in New York State, including those offices operating under the Bank of Cooperstown and Bank of the Finger Lakes brands.  The stock trades on the NASDAQ Global Market under the symbol— NWFL.