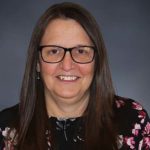 Honesdale, Pa – Lewis J. Critelli, President and Chief Executive Officer of Wayne Bank is pleased to announce the promotion of Barbara Ridd to Senior Vice President.
According to Mr. Critelli, "Barb has done an exceptional job leading the mortgage department and is highly deserving of this promotion. Her dedication, expertise, and leadership are invaluable as we continue to grow the Bank's loan portfolio."
Barb joined the Bank in 1989 and has served as the Bank's Residential Mortgage Lending Manager since 1996. She holds a degree in Banking and Finance from the American Institute of Banking and Lackawanna College. Barb resides in Honesdale with her husband, Peter, and enjoys spending time with her three grandchildren.
Wayne Bank is a subsidiary of Norwood Financial Corp., Member FDIC, and is located in Honesdale, Pennsylvania. The Bank has 30 Community Offices serving Wayne, Pike, Monroe, Lackawanna, and Luzerne Counties in Pennsylvania, along with Delaware, Sullivan, Otsego, Ontario, and Yates Counties in New York State, including those offices operating under the Bank of Cooperstown and Bank of the Finger Lakes brands. The stock trades on the NASDAQ Global Market under the symbol— NWFL.
Click below for a PDF version of this news release.
Click the photo icon for a larger image of the photo above.