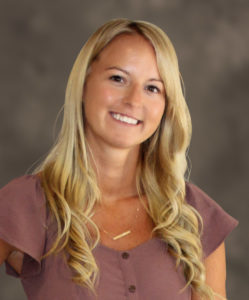 Honesdale, PA – Jim Donnelly, President and Chief Executive Officer of Wayne Bank, is pleased to announce the promotion of Christine ("Chrissy") Routledge to Vice President and Sullivan County Regional Manager.
According to Mr. Donnelly, "I am so happy to announce this promotion.  Chrissy's experience, knowledge, and leadership are assets to our retail market management team.  She is very active in the Sullivan County community and a wonderful resource for our customers."
Mrs. Routledge joined the Bank in 2013 and currently serves as the Sullivan County Regional Manager and the Community Office Manager for the Roscoe and Callicoon locations.  She holds a bachelor's degree from Hartwick College and serves as the President of the Roscoe-Rockland Chamber of Commerce and Secretary of the Roscoe-Rockland Ladies Auxiliary.  She is involved with many local organizations, including Roscoe 180 and Roscoe Beautification.  Mrs. Routledge resides in Roscoe with her husband, Nate, and their two Jack Russell terriers, and enjoys traveling, sports, and spending time with her family and friends.
Wayne Bank is a subsidiary of Norwood Financial Corp., Member FDIC, and is located in Honesdale, Pennsylvania. The Bank has 29 Community Offices serving Wayne, Pike, Monroe, Lackawanna, and Luzerne Counties in Pennsylvania, along with Delaware, Sullivan, Otsego, Ontario, and Yates Counties in New York State, including those offices operating under the Bank of Cooperstown and Bank of the Finger Lakes brands. The stock trades on the NASDAQ Global Market under the symbol— NWFL.