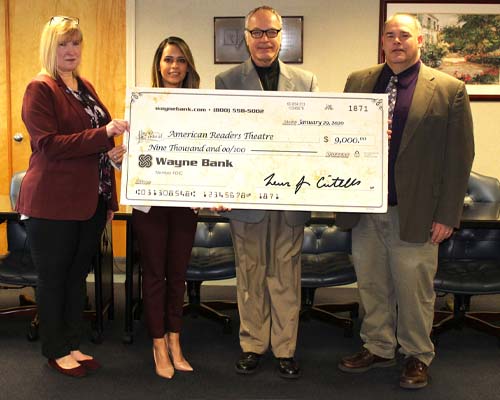 Honesdale, PA – Lewis J Critelli, President and Chief Executive Officer of Wayne Bank, is pleased to announce that the Bank will support the American Readers Theatre with a donation through the Educational Improvement Organization Program.
Jeffrey Stocker, Artistic Director of the American Readers Theatre, accepted a check in the amount of $9,000.00 from officers of Wayne Bank.
The gift was made possible as a result of the Educational Improvement Tax Credit Program offered by the Commonwealth of Pennsylvania, acting through the Department of Community and Economic Development.
"Wayne Bank is proud to continue our support of the American Readers Theater," stated Mr. Critelli. "The Writer's Project Program provides a wonderful opportunity for Delaware Valley students to enhance their literacy skills through arts education."
In 2008, the American Readers Theatre and the Delaware Valley School District embarked on a collaboration to develop literacy skills including reading, writing, speaking, and listening through the arts for Delaware Valley School District students. The resulting product of this partnership was named The Writer's Project and is an original educational program designed to nurture an interest in classic literature among Delaware Valley students by exploring the historical and cultural contest of great books and the writers who authored them including John Steinbeck, William Shakespeare, E.B. White, Ray Bradbury, Maya Angelou, and George M. Cohan. Students learn about the life and times of the each featured author and integrate art, technology, and even science into their curriculum to give them a deep appreciation of each author and his or her work. 2020's chosen writer is Hans Christian Anderson. Fifth grade students will be reading The Ugly Duckling, in addition to participating in Readers Theatre, music, art, and dance workshops.
Wayne Bank is a subsidiary of Norwood Financial Corp., Member FDIC, and is located in Honesdale, Pennsylvania. The Bank has 27 Community Offices serving Wayne, Pike, Monroe, Lackawanna, and Luzerne Counties in Pennsylvania, along with Delaware and Sullivan Counties in New York State. The stock trades on the NASDAQ Global Market under the symbol— NWFL.
PHOTO CAPTION – LEFT TO RIGHT: Sandra Mruczkewycz, Shohola Community Office Manager, Wayne Bank; Madeline Portugal, Milford Community Office Manager, Wayne Bank; Jeffrey Stocker, Artistic Director, American Readers Theatre; and Derek Bellinger, Assistant Vice President and Mortgage Originator, Wayne Bank.
Click below for a PDF version of this news release.
Click the photo icon for a larger image of the photo above.