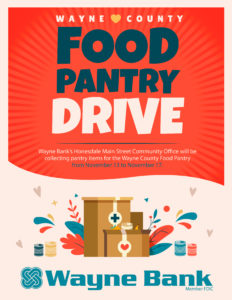 Honesdale, PA – From November 13th through the 17th, Wayne Bank's Honesdale Main Street Community Office will host a food drive to support the Wayne County Food Pantry.
The Office will collect non-perishable food items including food, paper products, and personal care items during regular lobby hours.
"There are many local families in need this time of year," explained Jill Hessling, Vice President and Regional Manager for Wayne Bank.  "Wayne Bank is committed to not only supporting our local neighbors with their financial goals, but we also care about their well-being and understand the importance of giving back.  All items collected will be donated to the Wayne County Food Pantry. Just in time for Thanksgiving and the holiday season.  Please consider taking a moment of your day to stop by with a donation that can help make a difference in our community."
The Wayne County Pantry Program is sponsored through County Government. It is operated under the leadership of the Wayne County Pantry Board which is comprised of private citizens. Board members are also coordinators at each of the pantry sites. The Wayne County Pantry Program has five sites located in strategic areas of the County to serve eligible County residents. The five food pantry sites can be found in Honesdale, Lakeville, Newfoundland, Lakewood, and Damascus. If you are interested in becoming involved with the food pantry or would like further information, please contact 570-253-4262 or visit https://www.waynecountypa.gov/169/Pantry.
For Honesdale Main Street Community Office hours, visit wayne.bank.
Wayne Bank is a subsidiary of Norwood Financial Corp., Member FDIC, and is located in Honesdale, Pennsylvania.  The Bank has 29 Community Offices serving Wayne, Pike, Monroe, Lackawanna, and Luzerne Counties in Pennsylvania, along with Delaware, Sullivan, Otsego, Ontario, and Yates Counties in New York State, including those offices operating under the Bank of Cooperstown and Bank of the Finger Lakes brands.  The stock trades on the NASDAQ Global Market under the symbol— NWFL.